Know, Plan, Act This Winter
Lung disease affects almost 1 in 3 Australians and is responsible for 1 in 7 deaths, however many people tend to ignore the signs and symptoms, often not doing anything about it for far too long.
Whilst many people may not think it, breathlessness is not a normal sign of ageing. Likewise, a persistent or changed cough shouldn't be put down to the flu or a cold. These symptoms may seem mild but they could be a sign of lung disease, such as lung cancer or Chronic Obstructive Pulmonary Disease (COPD). Early diagnosis is critical to save lives and improve outcomes and quality of life.
Don't guess, know – Lung Health Awareness Month
Lung Health Awareness Month is a Lung Foundation Australia national campaign held in May which raises awareness about the importance of lung health and how to recognise and act upon the symptoms of lung disease. Everyone is conditioned to think about their heart and skin health but our lungs are just as important.
To get involved and help raise awareness during Lung Health Awareness Month, download our promotional pack below.
Download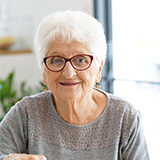 Don't assume, plan – come prepared this winter
COPD is the most common cause of potentially preventable hospitalisations. Come prepared is a Lung Foundation Australia national campaign which aims to keep people with COPD well and out of hospital. It raises awareness of the symptoms and how to manage an COPD flare-up (exacerbation). Every flare-up does long term damage to your health and can increase your risk of death – more than a heart attack.
Find out more
Don't delay, act – Pneumonia Awareness Week
Pneumonia Awareness Week encourages all Australians, especially those at high risk, to be aware of the symptoms of pneumonia and how to protect against this serious and potentially life-threatening lung infection. Adults aged 65 and over, no matter how healthy they feel, are at increased risk simply due to their age. 
Find out more
Lung Foundation Australia
The trusted central source of guidance and support at every stage of your journey. 
Lung Foundation Australia is the only charity and leading peak body of its kind in Australia that delivers life-changing research and programs to support and provide hope to people of all ages with a lung disease, and their families, at every stage of the journey. Our aim is to ensure lung health is a priority for all, from promoting lung health and early diagnosis, to supporting people with lung disease and championing equitable access to treatment and care. Our work is centred on the needs of those living with lung disease, and underpinned by the values of compassion, courage, respect and collaboration.
Our Mission
To improve lung health and reduce the impact of lung disease for all Australians through five key areas:
Research: Driving world-class research into the causes, treatment and cure for lung diseases
Advocacy: Being a loud and passionate voice for people with lung disease and their needs
Support: Providing high quality information and support services that help people with lung disease achieve better health outcomes and improve their quality of life
Awareness: Raising community awareness of lung health, lung disease and the symptoms to look out for
Education: Providing evidence-based training and programs to support health professionals in the delivery of best practice clinical care.
We rely on the generosity of the community, corporate organisations and our industry partners to continue to deliver our work.
Lung Foundation Australia works across all areas of lung disease, with a particular focus on Chronic Obstructive Pulmonary Disease (COPD), lung cancer and rare lung diseases including Idiopathic Pulmonary Fibrosis (IPF), Pulmonary Arterial Hypertension (PAH), bronchiectasis and rare lung disease in children. We rely on the generosity of the community, businesses and industry organisations to fund our work.